Detailed rating of AdultSpace:
Membership Base

Cost & Price

App

Safety

Special Features

Interface
Summary
With a limited amount of AdultSpace reviews online, it can be hard to figure out if this dating service is right for you. Here's what you need to know!
Summary
Members: 1.7 million
Best for: Dating, friendship, flirting, chat
User age: 18+
Recommended age: 25 to 35
Intro
Although it's not one of the dedicated bisexual hookup sites, AdultSpace does seem to come up a lot in the conversation! The question is: is this dating service worth trying, or is it simply an empty wasteland? In this review, we aim to find out!
First Impression
When we loaded up the website for the first time, there wasn't a lot that stood out about this dating site. The photo in the background is interesting, but it doesn't really provide any insight as to what the service actually offers. They seem to list nearly every major dating group towards the bottom of the page, though, so we can assume that this isn't a niche dating service.
AdultSpace Sign Up
You'll need to fill out a short form before you can join. The dating service requires your gender, sexuality, location, email address, user name, and your choice of a password. Once you've completed this, click the "Sign Up" button to be directed to your account. At least, that's what we thought. Turns out, it does take you to a dating site, but the platform is actually Fuckbook! Same service, different name. However, we'll still be referring to the service as "AdultSpace" throughout the rest of this review.
AdultSpace Members
After the redirect, it becomes clear what the actual target audience of AdultSpace is: young singles looking for a sexy hookup! Although you could probably use this service for casual dating, the amount of NSFW pictures on the site suggests any romantic potential would be limited, at best. Realistically, we wouldn't suggest chasing any romantic pursuits on this site.
Who's Online on AdultSpace?
The majority of the website's users seem to be interested in hooking up, not dating. We did see some non-nude pictures while scrolling through the feed, but the majority of photos posted on this website are fully nude or partially nude. One neat thing we did notice, though: it supports uploading GIFs!
Profile Quality at AdultSpace
Surprisingly, the dating profiles on AdultSpace actually provide a decent amount of information about the users. You can find basic information such as their body type or eye color, but the site also has optional fields like fetishes, common interests, and occupation, which could potentially help you in your search for a partner.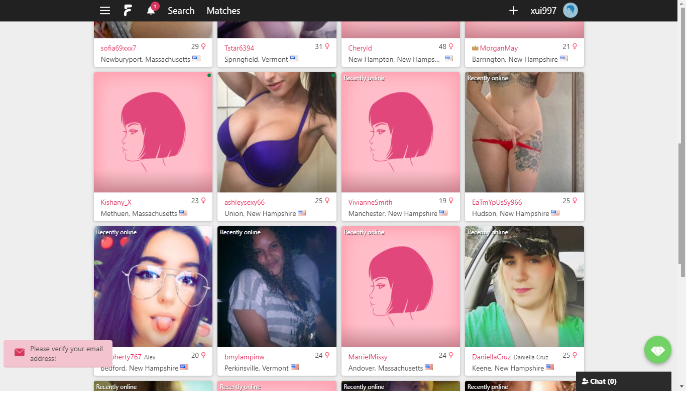 Making Contact on AdultSpace
Unfortunately, communicating on this service is limited to paid dating members only. You do have a couple of options: messaging, "Icebreakers," and commenting on member posts, but they all require membership. Without the membership, you'll simply be taken to a page that shows you the membership options available. However, you can still update your profile status, which is better than nothing.
AdultSpace Cost & Prices
To gain access to all the communication features on AdultSpace, you'll have to upgrade to a premium dating account with either a monthly or quarterly membership. If you're planning on using this service for any length of time, then we recommend going with the quarterly membership. For $44.85 (which is automatically rebilled every 90 days), you can enjoy three months of membership at only $14.95 per month. Monthly, on the other hand, is going to set you back $29.95 every 30 days, making it impractical for long-term use.
Free Services Option
AdultSpace does provide some non-direct dating and entertainment options for free users within its adult space. Without paying, you can watch live models via cam, view full-sized member photos, read blog posts, use the matchmaking feature, and even search through users using the various filters!
Fee-Based Option
Communication is pay-to-play here, so if you want to get anywhere with your matches, you'll need to purchase a dating membership. Once you do, you'll be able to send "Ice Breakers" direct messages and add comments to other user posts in the feed.
Free vs. Premium
A free account on AdultSpace will work fine if you're just searching for a little entertainment since you can still view other users' photos, watch live cams, and read blog posts. However, if you're actually planning on meeting anyone using this dating service, then you'll need to upgrade because communication is impossible otherwise.
AdultSpace App
At one time, there was an app available for this dating service. Unfortunately, that seems to no longer be the case, so if you want to use the site while on the go, you'll need to access it from your web browser. Fortunately, this means you can use the site on an Android, iOS, or even a Windows device as long as it has a browser!
AdultSpace Special Features
The "Live Cams" is definitely a top feature of the Adult Space dating site. Although technically not a part of the actual website (since it redirects you), it's still a good source of some free entertainment that's live, 24/7. For on-site features, we thought that the inclusion of "Karma" was a plus. "Karma" is a feature that keeps track of your on-site conduct, which sets the standards of what to expect when interacting with other people.
Conclusion
If you're looking for a serious dating experience, then AdultSpace is definitely not the place to go. On the other hand, if you're looking for hookups, then you'll no doubt love this site! Throughout this review, we noted multiple times that this site features NSFW content, and that's because of the straightforward hookup mindset of this site. If you don't mind purchasing a membership (we recommend the extended plan) to chat with beautiful women and meeting up with them down the road, then you should give this site a try!
FAQ
Is AdultSpace a scam?
No, this platform is not a scam. However, the free accounts don't really offer anything; it is essentially a pay-to-play service.
Who owns AdultSpace?
It is owned and operated by SARJ, LLC.
What security features does AdultSpace have?
The site uses HTTPS encryption to keep your credit card information safe during billing. You can also report and block other users (which affects their "Karma").