Detailed rating of Antichat:
Membership Base

Cost & Price

App

Safety

Interface
Summary
You can find lots of Antichat reviews online, but we answer all the question. Will it be worth it, or should you dump it? No need to scope around anymore.
Summary
Best for anonymous dating and chatting for both men and women
There are more men on the website
The average age of users is 25-35
Age restriction: 18+
Total user count: more than 26 million
LGBTQ+ friendly
Introduction
Our experts discovered and tested a well-known chatting platform and made this Antichat app review for your concern. It is an anonymous platform where users can hide their identities and freely disclose their feelings, and engage in dating without the threat of exposing their true selves. This service is best for people who value anonymity and are afraid to speak their minds. The discrete feature of Anti chat can be a blessing or a nightmare waiting to break loose.
| Pros | Cons |
| --- | --- |
| Antichat has a functioning mobile app for both iOS and Android users | There is a very high chance of meeting people impersonating to be someone else |
| There is a large pool of users compared to other chatting websites | You aren't safe from scams or internet crimes |
| The site provides a platform for anonymous chats and dating | |
First Impression
The first impression the website has made on people writing this review was in that it has a dark and eerie look; it gives off a very early 90's horror game aesthetic. The website's layout, for the most part, is very dull and monotonous. It is not fitting or up-to-date with the recent trends in web design for dating and chatting.
Antichat Sign Up
The signup procedure on Anti chat is very straightforward and simple compared to many other dating sites. Before the registration process, you will be asked to choose a language you prefer to continue with. Under the registration tab, you'll then be asked to add your username and create a strong password. Then you'll be redirected to another page where you'll be asked to confirm your gender and the gender you're interested in.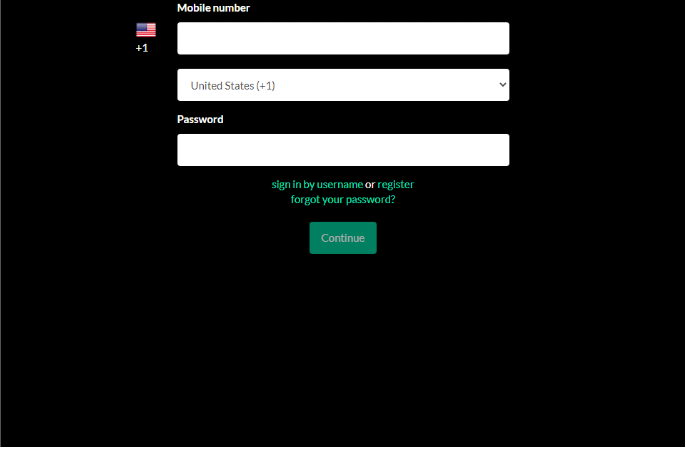 Antichat Member Structure
Since Antichat claims to be an anonymous platform, there is very little information on users' profiles besides the username and age. The site gender distribution has 40% female users and 60% male users from the pool of 26 million supposed members. Most of the profiles belong to young adults, mostly 25-35 years old.
Who's Online on Antichat?
Anti chat is used by members that are looking for a safe and discrete outlet for their emotions. Some users are looking to express themselves without judgment based on their looks, while others are here to find a secret lover and begin dating. Most users are young and are looking for a platform to meet new people and chat anonymously.
Profile Quality at Antichat
There isn't much information present on the member's profile to judge the profile quality. At most, you'll find an avatar and the gender of the person on their profile. You can also find the "send a gift" and "send a private message" icons underneath the basic information. Thus, the quality of profiles is very average for a dating platform.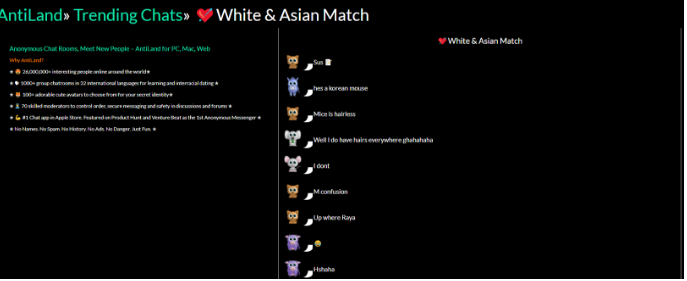 Making Contact on Antichat
Making contact on Antichat is slightly tricky. Basically, there are two methods of conversing, either through public chat rooms or through private messages. Everyone can send public messages within the chat rooms, but you will need to use 'Karma' points if you want to message someone privately.
Antichat Cost & Prices
Compared to other dating and chatting sites, Antichat's cost for premium membership is average. There are principally 3 types of different memberships available:
1 weeks' worth package for 4.99 USD/week
1 months' worth package for 9.99 USD/month
3 months' worth package for 8.33 USD/month
13 months' worth package for 6.67 USD/month
Free Services Option
If you aren't looking to spend any money on the site, there are a limited number of options available for you to take advantage of. These options include:
Public messaging facility
Free registration
View other users profiles
Earn karma through completing regular games and daily tasks
Fee-Based Option
Private messaging users that have high karma require you to use karma points, and so does gifting other users. So if you do not have enough karma points, you can also purchase them.
The premium membership lets you change your chat bubble's color and get your messages noticed faster in a public chatroom.
Earn karma points 2x faster
Free vs. Premium
Overall the ratios of paid to free options are very balanced. For the most part, the essential features are free for everyone to use. To use the special features, you can earn karma points by complete daily tasks. By purchasing the premium, you can earn double the karma points in the same time span and spend it more often.
Antichat App
To provide a detailed Antichat app review, we downloaded the app to see how well it functions. The app is available to download on both Android and iOS users. The design is very similar to the web version; hence there isn't much difference except the advantage of on-the-go use.
Antichat Special Features
Avatars: Since the website promotes anonymous chatting, users can choose an avatar of their liking to stand out. However, the options are limited.
Sending gifts: If you are interested in dating someone, you can send a signal by gifting them something by using karma points or cash.
Superpowers: Premium membership lets you highlight your profile amidst the pool of anonymous accounts, which is excellent if you are looking to begin dating. You can change the chat color and earn karma points two times faster.
Conclusion
Antichat doesn't necessarily provide the best features to kick-starting your dating journey compared to other dating platforms. In addition, the platform is very dark and might push women away from joining the site; hence it isn't exactly welcoming for a dating site. So overall, we wouldn't recommend it as a dating site, but it's a great place to meet new people without exposing your identity.
FAQ
Is Antichat a Scam?
No, from our experience, the site isn't a scam. But if dating is your goal, there are better options to choose from.
Who Owns Antichat?
Antichat is owned and run by Antiland Inc, California.
What Security Features Does Antichat Have?
There are options to block and report users on the website.