Detailed rating of ChatRandom:
Membership Base

Cost & Price

App

Safety

Special Features

Interface
Summary
Judging by most ChatRandom reviews, this site offers a unique possibility to have fun with people from all around the world without having to leave your room.
In an industry full of copycat dating websites and generic communication apps, Chatrandom brings a bit of freshness and excitement. The concept of this website is quite innovative and intriguing, and a certain population of users has well accepted it. This Chatrandom review will present all of the features that make this provider unique.
Overall summary
Founded in 2011 as an alternative to mainstream dating sites, Chatrandom is intended primarily for people looking for some quick online fun with no strings attached. It allows for instant communication with random strangers through a live chat or webcam stream, and it's used mostly for flirting. This is a web-based service that can be accessed through a browser without any downloads.
Intro text
Chatrandom is a free site where you get the ability to chat with singles from almost all over the world instantly. Chatrandom was developed in 2011 and has positioned itself as one of the most popular online chat sites. The dating site offers free roulette-style chat to its users all over the world. This chat portal is visited daily by over 35,000 online users from different chats.
| Benefits | Shortcomings |
| --- | --- |
| Innovative and fun online flirting service | Poorly suited for serious real-life dating |
| Extreme simplicity of use and no downloads | Most profiles you interact with are not verified |
| Playful and informal communication channel | Imperfect gender balance makes it hard to meet women |
| Completely anonymous and discreet | A single bad match can ruin your experience |
First impression
At first glance, the matchmaking website looks a bit different than what we are all used to. It's all about action – instead of searching for a good match for hours, you can jump straight into a wild conversation with someone you don't know at all. The user interface is clean and pretty simple to master, while all the important functions can be accessed from the homepage.
Sign up process at ChatRandom
The unique policy of Chatrandom is that it allows people to access its main functionality without registering an account first. Depending on your priorities, this could be a good or bad thing. On one side, this practically guarantees anonymity for those who require it. On the other, it leaves long-term members exposed to potential fraudsters.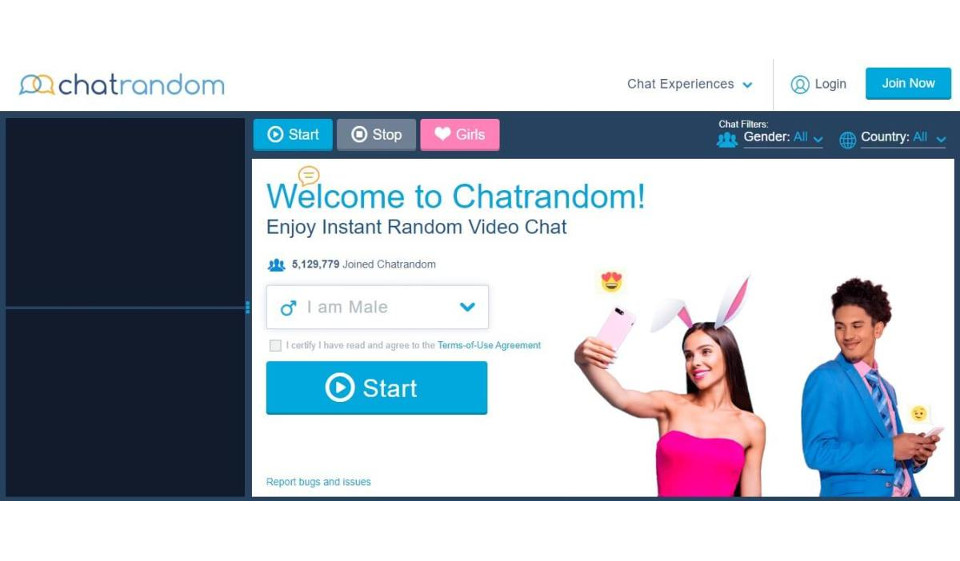 Members of ChatRandom
Users of this online service come from all over the world, with the largest groups from India, United States, Italy, and Germany. Around 65% of all Chat random users are men, most of them under 35. Around 35.000 unique users access this service daily, so there is someone online literally every hour of the day.
Who hangs out at ChatRandom?
People who come to this online chatting service almost invariably look for an instant adult adventure or steamy cam sex. That's why the atmosphere can get quite heated in the chat rooms, with many horny guys and girls meeting for the first time. It's fair to say that the audience of Chatrandom is quite typical of adult webcam sites and a bit wilder than on most regular dating platforms.
Member profiles
 Since it's possible to participate in live chats without a registered account, only users who intend to purchase premium membership have to create Chat random profiles. The profiles don't reveal any photos or personal details other than your geographic location and gender, so anonymity remains at a high level even after you create an account on this dating site.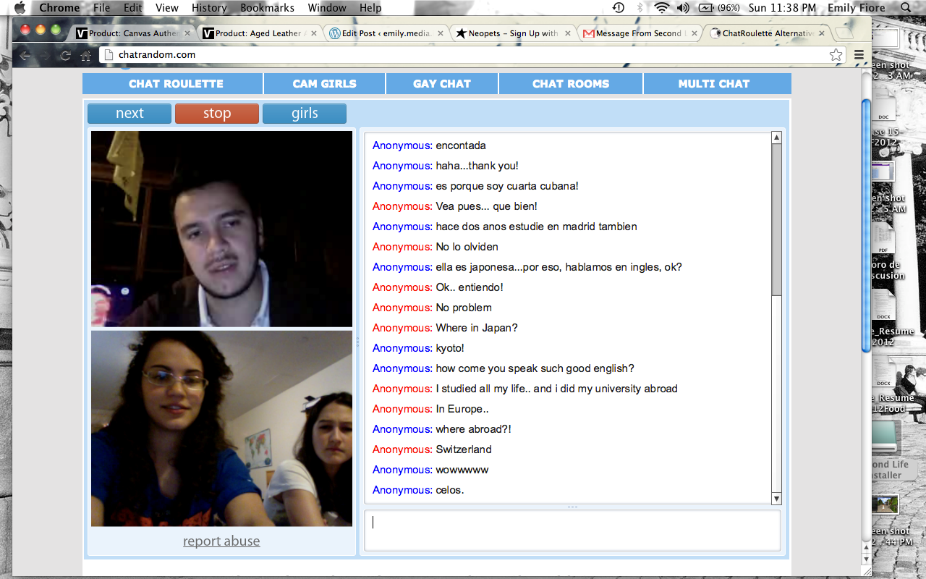 How to contact people at ChatRandom
To get in touch with someone on Chatrandom, you can use one of several options. The most convenient way is to click on the random connection button and be surprised by the outcome. You could also browse the chat rooms and seek out someone who is in the mood for a conversation. There are many differently-themed rooms, so you can pick one that attracts your attention. You can engage in cam2cam video streaming or talk through a text-only chat window.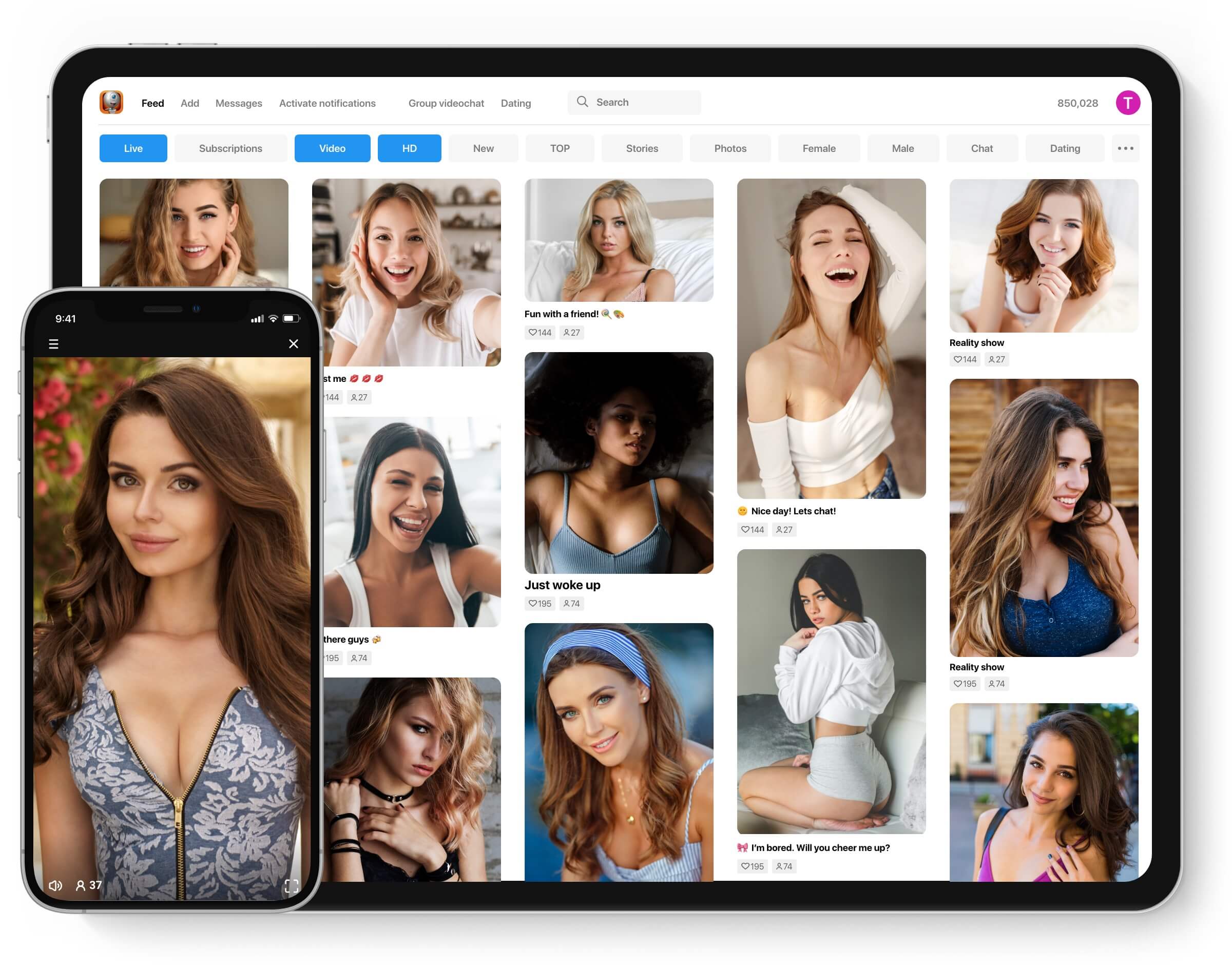 Membership plan pricing
With a paid membership, you can have more control over who you chat with, which is why many users decide to acquire it. The cost of a 7-day plan at Chatrandom is $6.99, while a monthly subscription is available at $19.99. A credit card is the only supported payment method at this dating site right now.
Free features
The list of features available to all Chatrandom users includes:
• Access to the full content of the dating site
• The ability to join chat rooms and see other users
• Participation in a textual chat with other members
• One on one cam streaming with other members
• Face masking during a video chat to protect your identity
Paid features
Members with a premium status get exclusive access to the following functionalities:
• Joining chat rooms with female members
• Picking the preferred gender of the random chat partner
• Greater choice between geographic locations of chat partners
• Back button that allows user to return to a previous chat
• Registered users can download the mobile app
Should you get paid membership?
Depending on your level of interest in this service, opening a paid account on Chatrandom could be a good idea. Since you can try out all the messaging features for free, there is no reason to purchase a premium membership right away. If you keep coming back to this dating site and spending a lot of time chatting with strangers, then becoming a premium member makes perfect sense.
Mobile app evaluation
Chatrandom only has an Android app ready for use, so iPhone users are out of luck. The dating app is free to download but requires a registered account for Chatrandom. The user interface is modern and practical and very conducive to video chatting and casual texting. The features found in the web version are present in the app too, so it's worth having it on your phone.
Special features on ChatRandom
Instant video chat is the feature that really sets ChatRandom apart from regular dating sites. This approach is emphasized by offering multiple chat rooms for particular groups of users, such as gay chat, for example. Otherwise, the dating site has few special features worth mentioning and offers a straightforward service of a specific type.
General conclusions about the quality of this service
This website works really well for people who want to talk dirty with strangers and watch them nude on camera. However, it's hard to imagine using this dating website as a serious online dating tool, even if you are into casual sex. Considering that main functionalities are free of charge and membership fees are reasonable, Chatrandom offers solid value and has a place in the ecosystem of online dating sites.
FAQ
Is Chatrandom a legitimate webcam site or a fraud?
The dating website has been in operation for a whole decade, and it is one of the webcam sites with a large user base. It openly presents its service, which can include indecent acts and explicit language.
Which company or individual is the owner of this service?
Chatrandom is privately owned and legally registered in the United States. It is represented in public by its co-founder and CEO, Allen Fox.
Is security taken seriously by this provider?
Since there are no registration requirements, Chatrandom can't really control who is using its services, so users are advised to be watchful for potential fraudsters and sexual predators when playing online.