Detailed rating of Fetlife:
Membership Base

Cost & Price

App

Safety

Special Features

Interface
Summary
If meeting like-minded people with similar sexual interests is your thing, Fetlife is an excellent place to start. It might help to know what the dating site offers.
Summary
Fetlife is an online dating community where people meet other people to satisfy their most insane sexual kinks. It is one of the most touted fetish sites. The platform does not have the features of a dating site, but it achieves those purposes all the same. See how it holds in this in-depth review.
Intro Text
FetLife is a dating site full of surprises. It does not present itself as one, and it encourages members to interact with other members without the mindset of satisfying their lustful desires. The site was created for members with the same interests to interact with one another without anyone feeling disturbed by someone they have no interest in. To know how "Fetish" the website is, you have to join and experience everything the dating site offers.
| Pros | Cons |
| --- | --- |
| The site has almost ten million registered members | It does not come off as a dating or hookup site. Many people who might want to join a hookup site don't know about the website |
| It has an active kink community that makes the Fetish part of the site come alive | Some of the features are strictly for users with premium accounts |
| The website itself is fun and welcoming | The site has an old, outdated design |
First Impression
Having the background knowledge that the site is not just a dating site but on sexual fantasies like fetishism, kinks, and BDSM kind of warped my first impression. But a look at the website will not reveal that information to you. It is an excellent decoy for a site with such advanced sexual adventures, which makes a lot of sense.
FetLife Signup
Signing up for dating or anything else on this website is free without an overly strict registration process. There are boxes to input your email address, location, nickname, date of birth, sexual orientation, role, gender, and password. Account verification is done using your phone number. If you forget your password, you can recover it with your phone number or email address. You cannot register on the website using any of your social media accounts, but you can put your social media links on your profile so people can look you up on them if you want.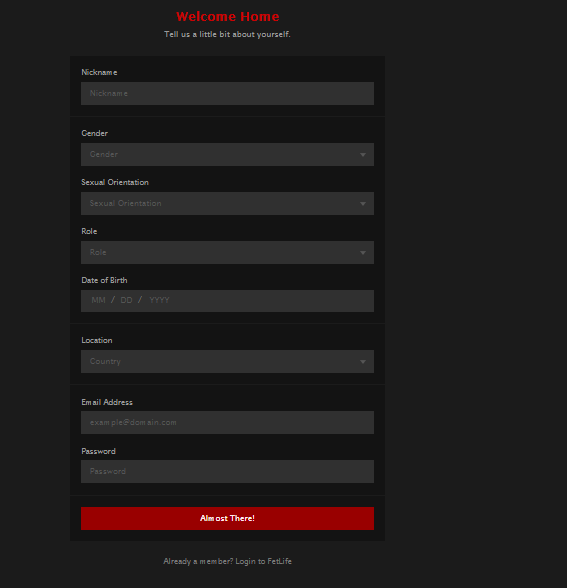 FetLife Member Structure
Out of the nearly 10 million members that the website has, 4,500,000 members are from the United States of America. The website gains about 100,000 members every month, and 25% of the members are women, while men take 75% of the total membership. It targets like-minded individuals looking to explore their sexual kinks and fetishes, and they are usually between 25 and 34 years old.
Who's Online on FetLife?
The website has different categories of members who all have varying interests and degrees of kinks. With men dominating the membership on this dating website and about half of the members based in the U.S., you will most likely find these sets of members online. Also, make sure you check members' profiles before you send them a message to understand what they are into and what their preferences are.
Profile Quality at FetLife
Men to women ratio is about 3:1, and each member's profile displays their photos, videos, name, short narrative, activities, and friend and followers list. You can keep your profile private but if you want to be open, keep it public so that anyone can view your profile.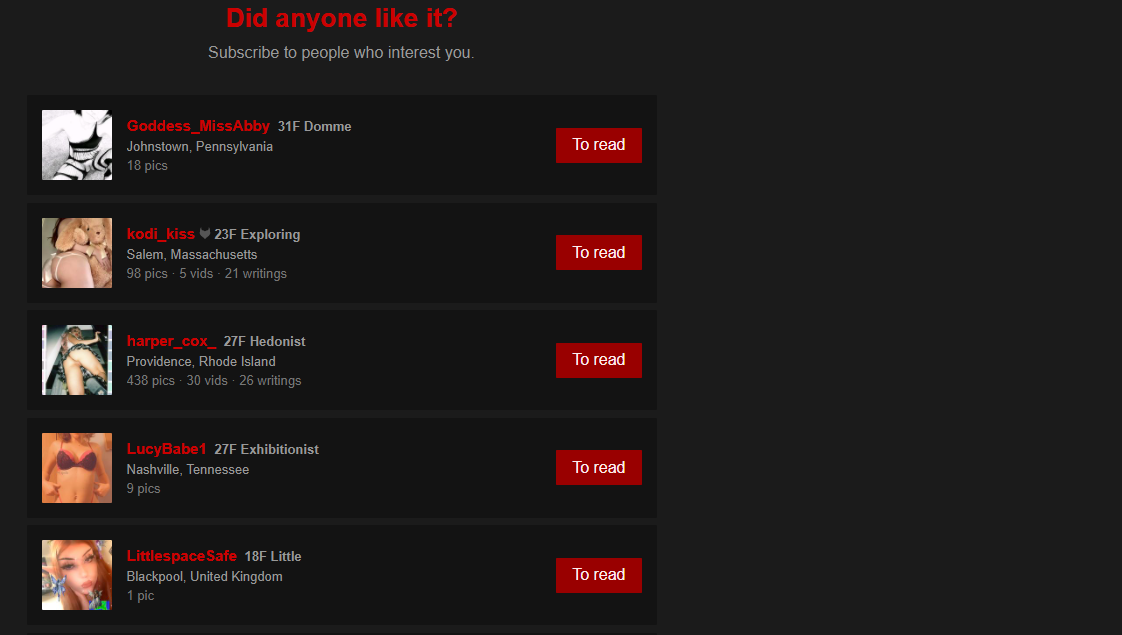 Making Contact on FetLife
Making contact with other users is free. You can send a member a message or search for specific people using the search bar. The explore tab on the dating site also gives you the option to meet new people. The message box is similar to that of emails, and you should know that not all members will respond. Some members might also respond rudely if you try to connect with them in ways they do not like. So, check their profiles to see if they have any special guidelines on making contact with them.
FetLife Cost & Prices
The site has duration-based pricing, which is highlighted below:
6 Months 30 USD at 5 USD per month
12 Months 60 USD at 5 USD per month
24 Months 120 USD at 5 USD per month
Free Services Option
Users can send messages to other members
Users can view photos and videos of other members
Users can join groups
Fee-based Option
Members get a sexy "I Support FetLife badge" on their profile
You get to see Perv today's most loved pictures and videos
You get to go back 25 times further in your Friend Feed
Free vs. Premium
Apart from the fee-based subscription options, the site does not have a premium subscription. Instead, it offers an avenue for members to support the website by donating any amount monthly for at least six months. Support members enjoy all the perks of the fee-based subscription and some more, including reminiscing all the content they have loved, designing their feed how they like, and being the first to access new features.
FetLife App
The website has a mobile app that can be downloaded from fetlife.vip. The application is only available for Android devices using any mobile browser. The application is not on Google PlayStore, nor is it available for iOS devices yet. In our Fetlife app review, many users expressed their preference for the mobile application over the desktop version of the dating site.
FetLife Special Features
The platform offers very simple features. However, it is different from other dating sites with its "Fetishes" feature. With this feature, you can explore the fetishes you are interested in out of more than 60. You get to see profiles of other members with similar interests and connect with them if you want.
Conclusion
This dating platform gives its members the option to open up about their sexual fantasies, kinks, and sexuality. With members all over the world, members get to share their innermost fantasies and desires with others. If you are not looking for any of these, other dating sites might cut it for you. But on the surface, that's what you get with a membership on this site.
FAQ
Is FetLife a Scam?
No, it is not a scam. Like other dating sites, there are scam profiles, so don't hesitate to report them when you suspect them.
Who Owns Fetlife
The owner's name is John Kopanas, also known as John Baku, a software engineer in Montreal, Quebec.
What security features does FetLife have?
There is a private support email which is privacy@fetlife.com. It also encrypts all the information shared by its members and deletes any information members delete from its servers.