Detailed rating of Planet Romeo:
Membership Base

Cost & Price

App

Safety

Special Features

Interface
Summary
Anyone looking for a suitable LGBT dating partner could take advantage of the lectures from Planet Romeo reviews and have a great experience with online dating.
This website was founded in 2002 and was initially limited to German-speaking countries but has since developed into a global service specializing in gay men dating. It offers a solid mix of free and paid features and allows users to communicate directly and safely. That's why it's regarded as one of the premier LGBT dating sites at the moment.
Intro text
Planetromeo is promoted as the exclusive gay dating site and can be accessed from virtually every country in the world. The PlanetRomeo website and mobile app are available in six different languages: English, French, German, Italian, Portuguese, and Spanish. The dating site gives you access to communication and search functions that provide an excellent user experience. It also has a good percentage of active members, making it a good platform for gay people to find friends, dating, or serious dates.
General summary of most important features
Every Planetromeo review must mention its user-friendly approach to online dating. This provider makes things simple by focusing on queer men exclusively and making sure everyone has fun by including many cool communication options. Most people use Planetromeo as a source of hookup partners, but it's possible to find all kinds of dating opportunities at this gay portal if you know how to approach it.
| Pros | Cons |
| --- | --- |
| Precisely defined target group and dating niche | Primarily focused on short-term dating |
| Inclusive and supportive environment of gay, bisexual and transgender people | Presence of explicit photos on user profiles can shock some people |
| Free access to most communication tools | Relatively complex registration process |
| Very active and membership base | There are fake profiles and possibly malicious users |
| Members can vouch for the credibility of other users | |
| Free mobile app download for iOS and Android | |
First impressions about the brand
In the current online dating industry, brands with a clear vision tend to have an advantage. Planetromeo is a dating provider with good name recognition among LGBT individuals, especially in Europe, and it plays a big role in this scene. The website looks clean and intuitive, and its communication and security features are above industry standards.
How to sign up for Planetromeo?
To become a dating site member, you'll need to answer some questions and provide an e-mail for verification. You'll also need to choose a username, post a profile photo, and manually set up your geographic location. The process only lasts about 10 minutes in total, and you can streamline it even further if you import your personal info from Facebook.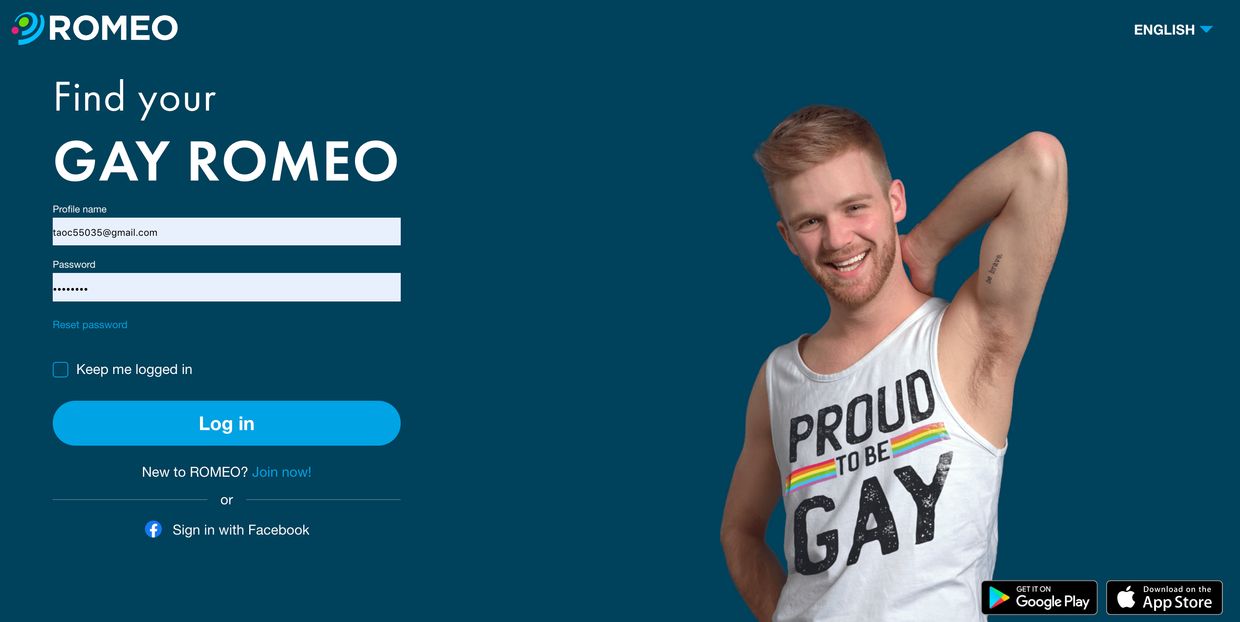 Membership overview
Despite the fact that Planetromeo supports six different languages and advertises as a global dating service, a majority of its 6 million users are from Europe. Many users are gay or bisexual men, and they are typically looking for casual sex or adventure with other guys. With over 50,000 unique visits per day, the site has more than enough activity to justify trying to find a partner here.
Demographics of Planetromeo users
The largest group of users on Planetromeo is between 25 and 34 years of age-old. More generally speaking, men under 50 account for the lion's share of the user base. Nearly 500,000 US-based users have registered accounts on this site, while various European countries contribute sizable contingents as well.
User profiles at Planetromeo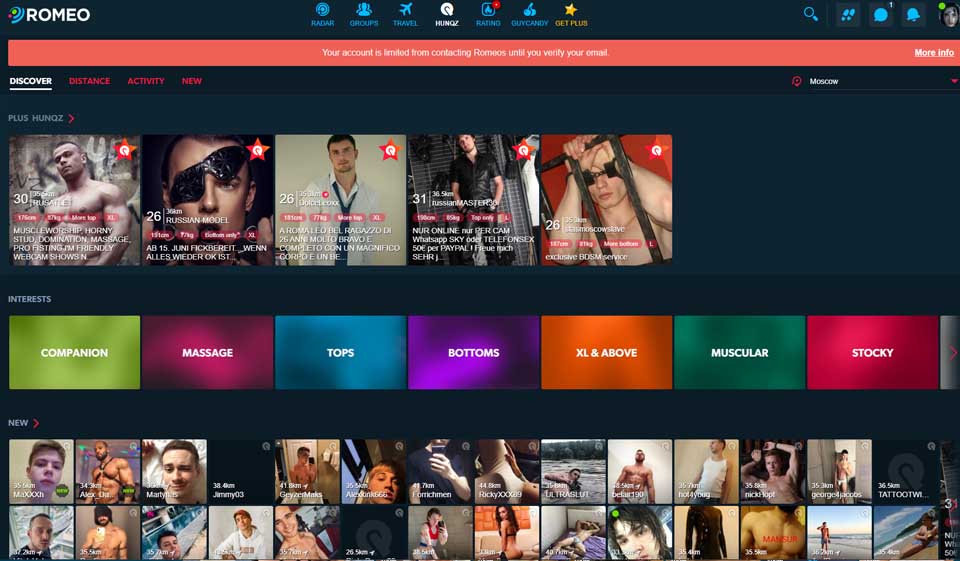 It's possible to learn a lot about potential partners at Planetromeo by analyzing their user profiles. Since photos are mandatory on the site, you can easily spot fake accounts since they are using random internet images and not personal photographs. Users also indicate their chief interests, so you can focus only on those looking for the same type of relationship.
Establishing contact with potential partners
One of the best sides of planetromeo is that it allows everyone to send messages. It's also possible to send stickers or add people to your Friends list. The advanced search function also makes finding like-minded partners much easier. In a sense, Planetromeo includes some social media functions that put it above most competitors in this niche.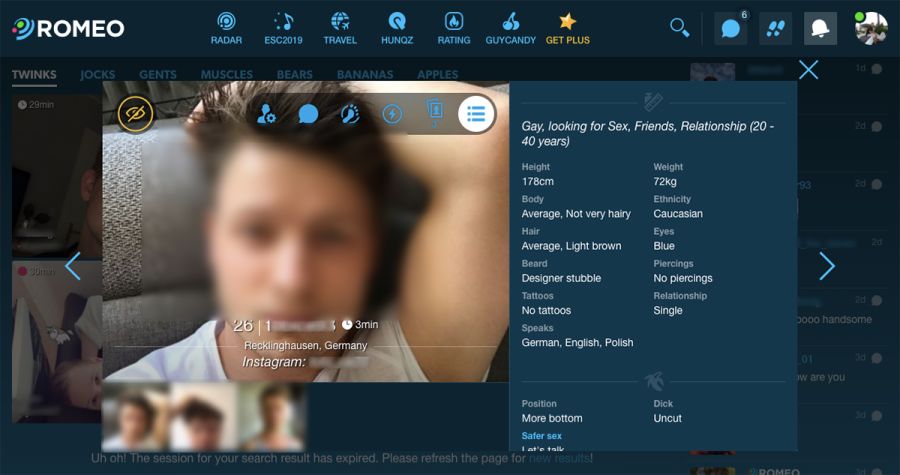 Pricing policies
Planetromeo offers very affordable membership packages, starting at $10.11 for a monthly subscription. 3-month membership can be purchased for $23.58, while a 12-month package will cost you $67.32 or just $5.61 per month. Fees can be paid through a credit card or with a Paysafe card, and payments are always made in the EUR currency.
Free services
Even without a premium subscription, you can still do quite a lot at Planetromeo:
• Sending unlimited text messages to other users
• Making 3 requests for access to private galleries per day
• Ability to use all available search filters
• Adding selected users to a Friends or Favorites list
Fee-based services
Still, upgrading to full membership brings some tangible improvements, such as:
• Unlimited requests for access to private photo galleries
• Ability to see who viewed your profile in the past week
• Memorizing search filters for a future search
• XXX content is fully displayed
• Browsing user profiles without being seen
Comparison of free vs. paid membership
At this dating site, both categories of members are treated well. Free users get far more options than on the competing online gay dating platforms, but premium packages still deliver a lot of value. This means that people curious about LGBT dating can participate without a financial commitment, while more experienced users can get the next level of service at a reasonable rate.
Mobile application
Planetromeo has mobile applications for both Android and iOS, with all features found on the desktop version. In fact, the mobile version can be coupled with Google Maps to direct you to the location of your hookup. According to Planetromeo reviews from users, usability is quite solid, so this app is definitely worth having on your phone.
Extra features/services
In addition to basic functionalities, this provider offers a whole array of interesting features that appeal to gay and bisexual users. There is a special gallery for XXX content that can only be viewed with the owner's permission, while photos are rated based on the level of explicitness. There is also a blog where profiles of some users are highlighted as inspiration to new members.
The verdict
It's clear that Planetromeo has a large following among LGBT people, indicating that it provides a high level of service to this target group. This is especially true if you are only interested in casual adventures and don't mind seeing some explicit images. However, it's possible to find friendship or love as well on this site. Thanks to a good mobile app and several adult-oriented features, it could easily become the next big thing in gay dating.
Frequently Asked Questions
Should I assume that Planet Romeo is a scam or not?
Considering this website has been in existence for nearly 20 years and has several million registered users, it's highly unlikely that it's involved in any type of unethical activity or fraud.
Who are the founders and owners of Planet Romeo?
This dating website was originally founded by German entrepreneurs Jens Schmidt and Manuel Abraham. It is currently owned by a company named Romeo BV.
What security features can I expect at Planet Romeo?
In addition to e-mail verification, users provide personalized verification of members they had contact with. Reporting or blocking other users takes just one click, which largely eliminates abusive behavior.