Detailed rating of Whiplr:
Membership Base

Cost & Price

App

Safety

Special Features

Interface
Summary
Other Whiplr reviews might tell you the facts, but they don't tell you about the experience. We explored this kinky website to find out how effective it is.
Summary
Members: 2.6 Million
Best for: Flirting, BDSM, Kinky Chat
User age: 18+
Recommended age: 30 to 40
Intro
Are you looking for an online dating service that will help you unleash your kinky side? If so, then you'll love Whiplr! In this Whiplr app review, we'll go over everything from the site layout to the members within, so don't wait—keep reading!
| Pros | Cons |
| --- | --- |
| Available on desktop and mobile | Expensive dating membership costs |
| Free for female members | Nude photos are not allowed |
| Quick and easy registration | |
First Impression
When we first loaded up the site for this dating review, we knew this website would be fun. The homepage switches between various suggestive fetish-related photos, avoiding nudity while still maintaining a high level of sexuality. One annoying thing we noticed though: you can only scroll down using the arrow keys!
Whiplr Sign Up
As is the case with most dating sites, joining Whiplr is simple and takes up only minutes of your time. To make an account, you'll first need to choose a username (called a nickname). From there, provide your email address, choice of password, birthday, gender, role (sub, dom, or switch), and upload a photo. Be sure to pick a sexy, non-nude photo, since this will be your first point of contact with potential matches! Once that's done, click "Sign Up Now" to complete your account.
Whiplr Members
The dating service we're making the review for today is designed for those with non-vanilla sex lives. If you have to ask what a "vanilla sex life" is, then this probably isn't the site for you! People on this site engage in all different kinks and fetishes, which makes it a great option if you've had trouble sharing your bedroom preferences in the past since the community is open-minded and welcoming to all.
Who's Online on Whiplr?
Here, you'll find men and women interested in BDSM (or other kinks) who're looking for a partner. Some may be in search of a romantic pursuit, but most are looking for a sexual fetish partnership. The majority of users are younger, falling between the ages of 30 to 40, but you can certainly find users outside of this age group on the site.
Profile Quality
Whiplr maintains a fairly even balance of men and women on its dating service. This is no doubt thanks to the completely free access that female members enjoy! Profiles provide a decent amount of information about the person in question. You can easily view their photos (although you will have to request to view their private pictures) and learn about their kinks simply by taking a quick scroll through their profile.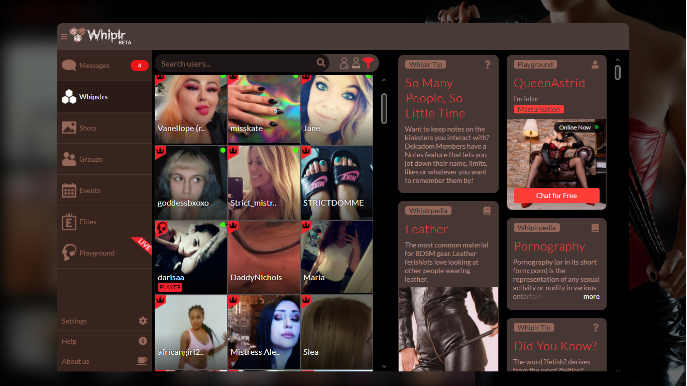 Making Contact on Whiplr
As is the case with most fetish sites, reaching out to other dating site members only takes a few clicks. The most obvious way to spark a conversation is by clicking on the "Chat" button, but you can also join groups or view other user's posts on the feed (where you can leave likes or comments!).
Whiplr Cost & Prices
We discovered something during our Whiplr dating site review that will be extremely helpful to half of our readers; women can use the service entirely for free! Of course, the same cannot be said for men, so they'll have to be willing to pay a bit if they want to get the most out of this service. Whiplr membership costs a minimum of $29.95 per month.
Free Services Option
The females using the site can enjoy all of the features for free. Male free members can use all of the basic features (such as chat, joining groups, and viewing pictures), but they will be subject to some limitations.
Fee-Based Option
For men who decide to upgrade their Whiplr dating account, premium membership can provide a lot of benefits! In addition to unlimited chat privileges, they also get the ability to send photos in chat, send virtual girls, call other members, create chat rooms, and more!
Free vs. Premium
Women can enjoy all the features of this site for free, whereas men will have to upgrade their dating account to experience everything this site has to offer. Still, we think the site provides a superior fetish experience regardless of your membership status, although we do think upgrading is worth it (mainly for the unlimited chat and calling features).
Whiplr App
Here, users won't have to worry about taking a break from their online dating lives; you can stay connected while on the go using the app! Available for both iOS and Android, the mobile version offers all of the same features as the desktop version and uses the exact same layout, so there won't be a learning curve.
Whiplr Special Features
Besides being specifically for kinky individuals, this fetish service also separates itself from the other dating apps on the market with the "Whiplrpedia." This little helpful entry appears on the side of each page and provides a bit of information about random fetish-related terms you may or may not be familiar with.
Conclusion
Just like we had guessed coming into this Whiplr app review, this online dating service is perfect for kinky individuals into BDSM and similar fetishes but will be extremely off-putting to more "vanilla" singles. Still, considering the audience it's intended for, we think this service provides everything needed from a dating site. As a bonus, women can use all of the features for free, which makes it an excellent option for any female sub (or domme to be!).
FAQ
Is Whiplr a scam?
No, it is not a scam. Although they do collect your credit card information if you purchase a membership, providing this information is not required to simply use the basic site services.
Who owns Whiplr?
The site is owned and operated by Matech Limited.
What security features does Whiplr have?
In addition to the standard HTTPS encryption, the service also manually reviews every account created to ensure no fake profiles are added to the service.